News
Associated Professor of Binghamton University visits History Department of BSU
12/06/2017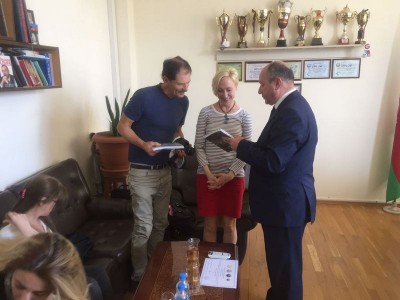 Dr. Heather Diane DeHaan, Associated Professor at Binghamton University (US) has visited the History Department of BSU to meet its Dean and teaching stuff.
|
more
History Faculty Student Scientific Scociety history members in Republican Conference at Institute of Manuscripts
17/05/2017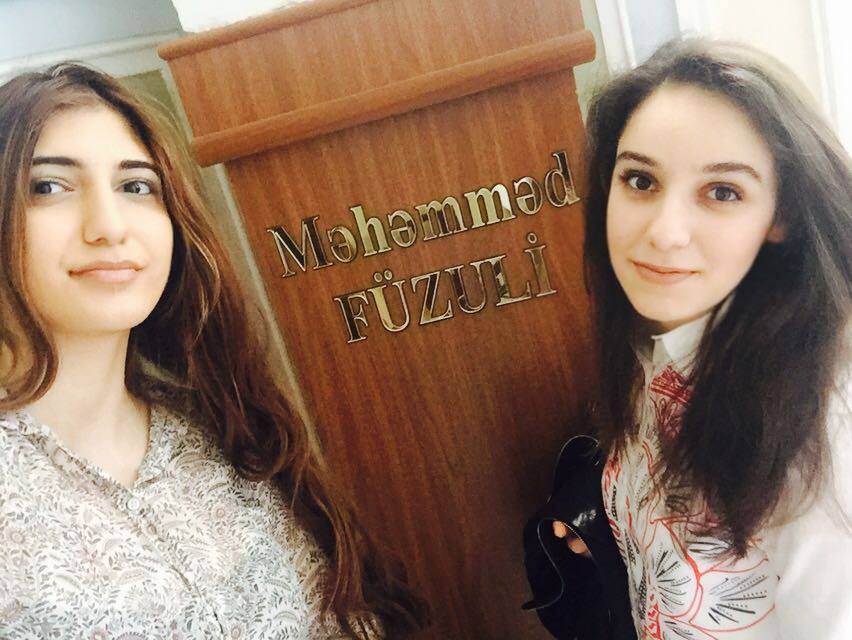 Baku State University History Faculty Students the members of Scientific Society for the History of the English group of second-year Ayan and Lamie Mustaphaeva participated in Republic Conference
|
more
An event dedicated to national leader Heydar Aliyev
10/05/2017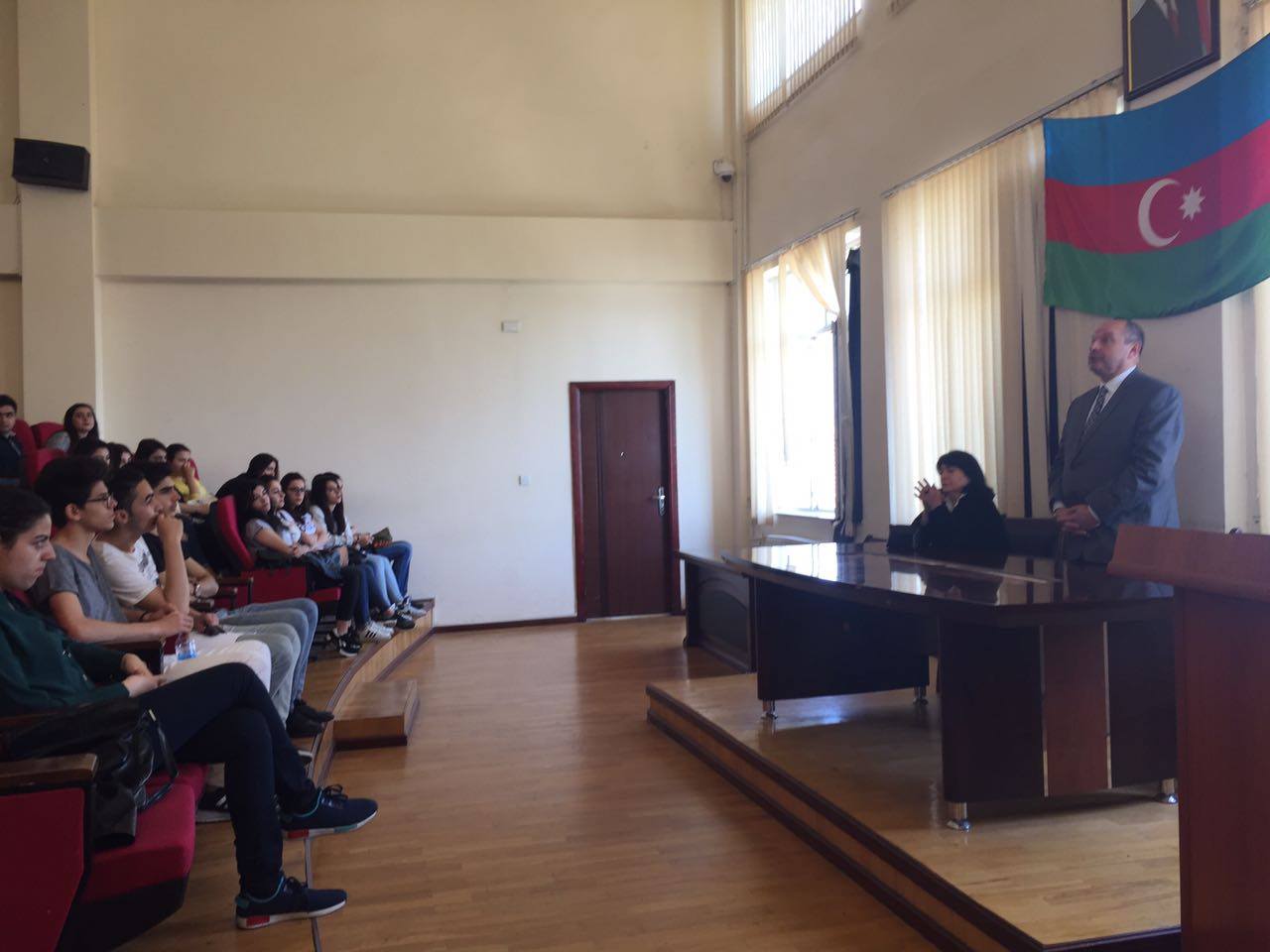 History of Faculty held events occasion on 94th Anniversary to the National Leader of Heydar Aliyev
|
more
Faculty of History student won competition in history view.
28/04/2017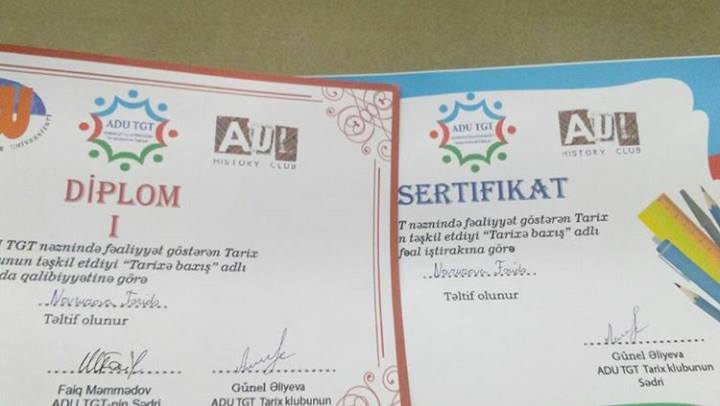 Deputy Chairman of the Undergraduate Student Scientific Society of the History the Baku State University, Novruzova Farida history "vision" has been named the winner of the competition in Azerbaijan University of Languages.
|
more
American professor gave a lecture at Baku State University.
19/04/2017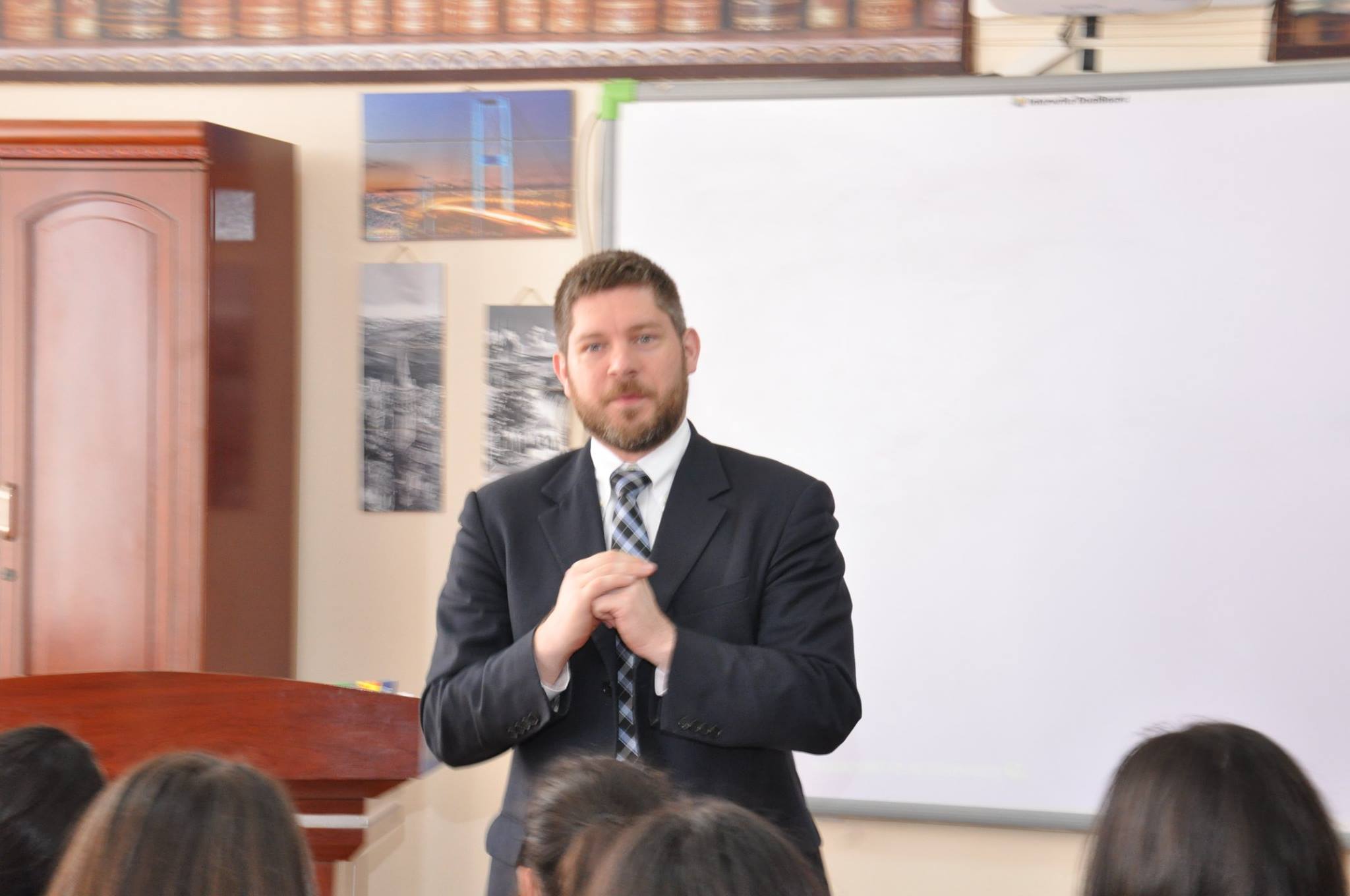 American Professor Sam Potolikkio was the guest in History of Faculty, at the Baku State University. This meeting took place within framework of the US Embassy Alumni MAX program.
|
more
March 31 Genocide commemorative history written in blood.- practical science conference
03/03/2017
Baku State University Faculty of History will be held scientific and practical conference dedicated to the genocide of 1918 March 31 "March 31 Genocide commemorative history written in blood."
|
more
History faculty held on project
27/02/2017
History faculty of Baku State University held on project "Study of Caucasian Albania"the head of department of the Presidential Library Administrative Department of historian and scholar Nazim Mustafa, presented a lecture on the topic of "Udi villages Yelizavetpol: what do we know?"
|
more
Science practical conference on 25th anniversary Khojaly in Baku State University
24/02/2017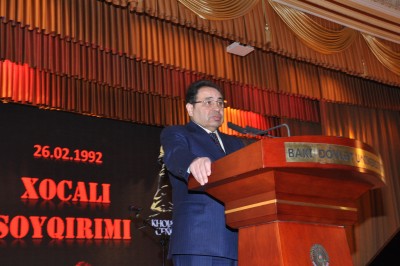 BSU held science practical conference on 25 -th annivesary of Khojaly genocide
|
more
History faculty guest from Naples University archeaologist, professor Bruno Gentinno
05/12/2016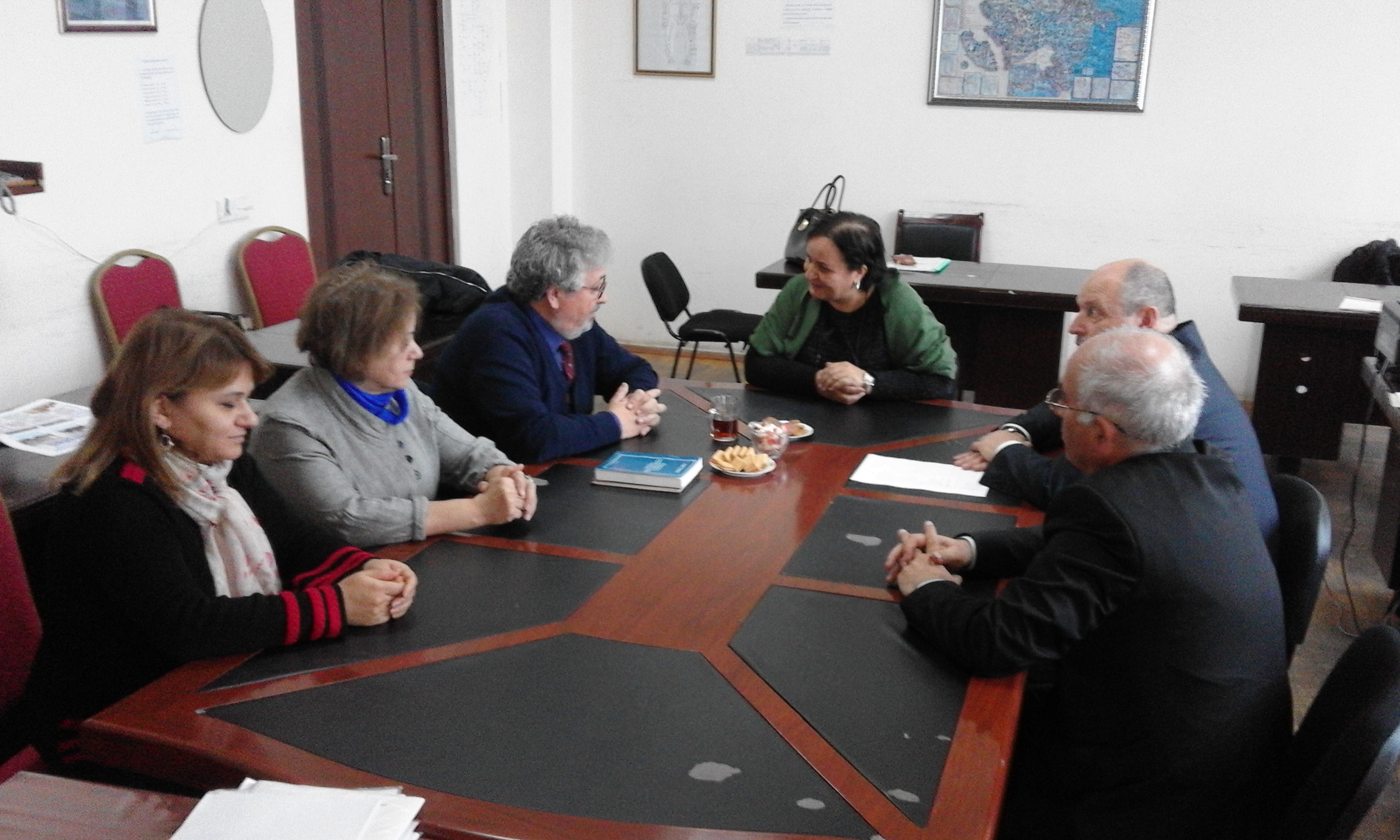 On december 5, 2016, gueat of the history faculty was itallian archeaologist, of Naples University Bruno Gentinno
|
more
The Baku State University History faculty was held conference under the Multiculturalism year.
10/11/2016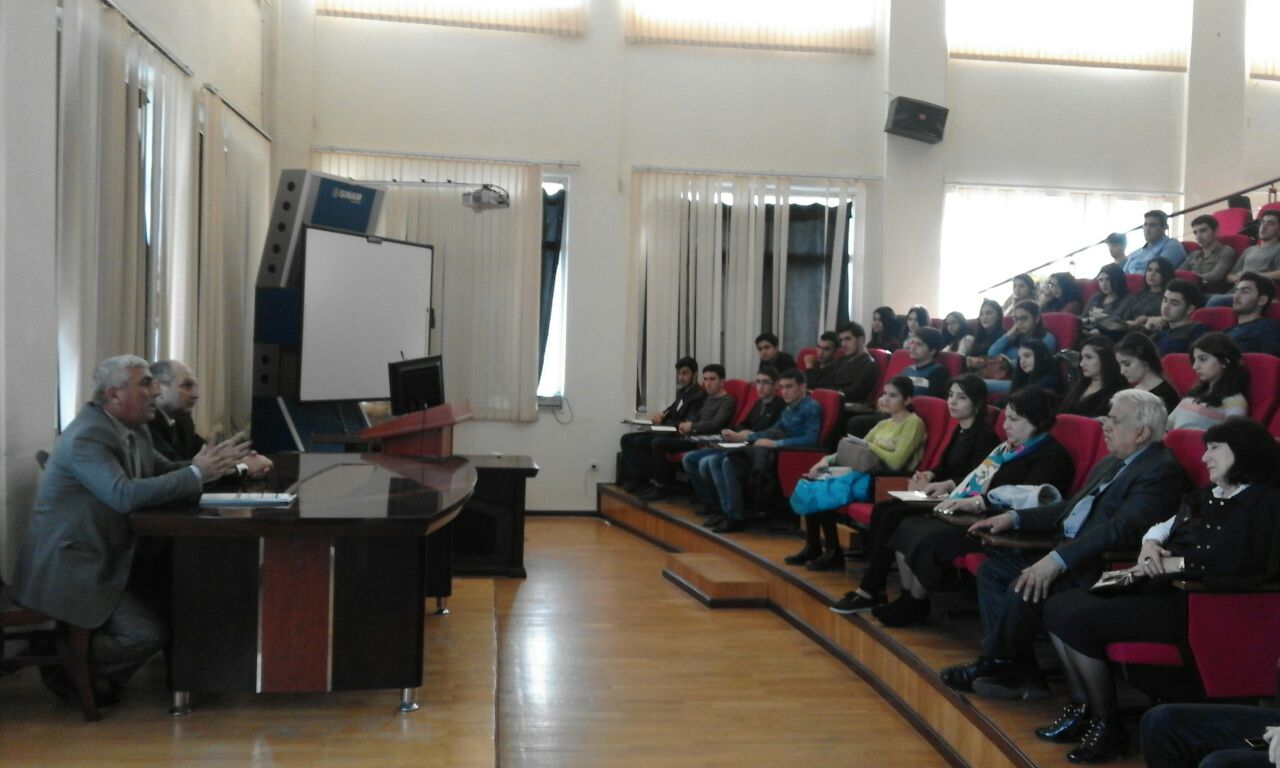 In this regard, the statement of President of Azerbaijan Republic Ilham Aliyev, that Multiculturalism is the year 2016.
|
more
The Day of Azerbaijan National State Flag
08/11/2016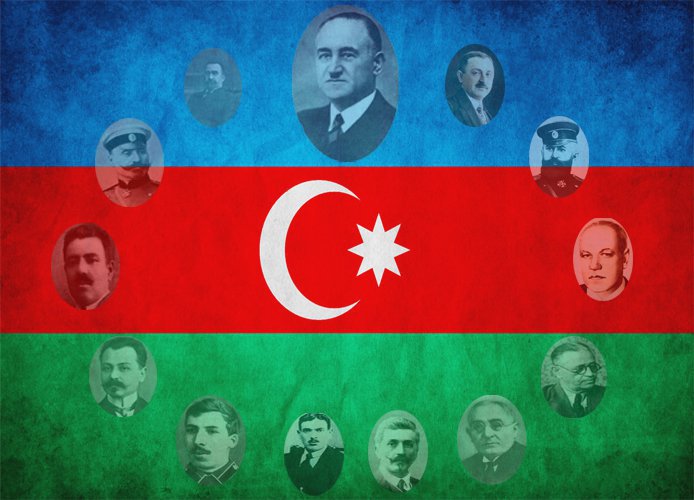 The author of meaning of 3 colors of State Flag of Independence Azerbaijan including basic principles of our national independence ideology – "Turkism", "Islamism", "Modernism", is Ali bek Huseynzadeh.
|
more
Annual report of educational and methodological council in history faculty has been rated satisfactory.
01/11/2016
On November 1, 2016 history faculty `s commission of educational-methodical council was held annual report meeting.
|
more
History faculty educational-methodological council`s report.
01/11/2016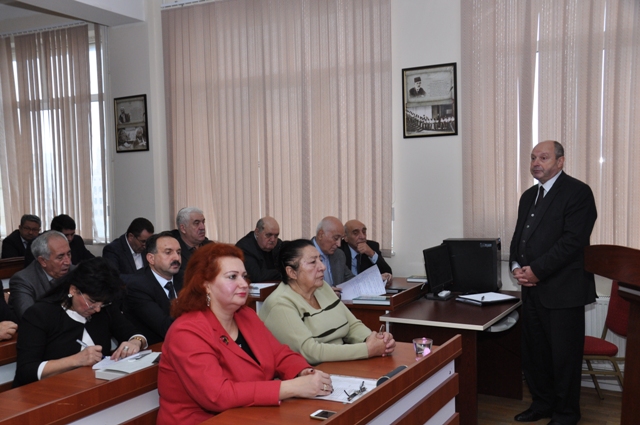 On 1 November, 2016 year in history faculty at Baku State University was carried out meeting report of educational-methodological council.
|
more
Meeting with historian Oleg Urievich Kuznetsov
10/10/2016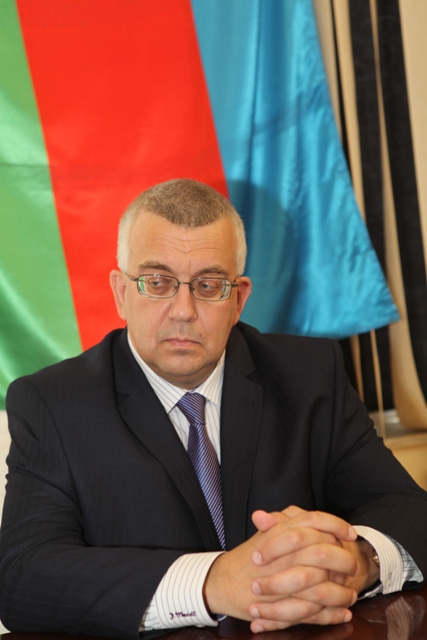 History faculty were held meeting with russian historian, legislator, professor, publisist Oleg Urievich Kuznetsov.
|
more
Online Conference provide theme about Historical roots of multiculturalism in our material and cultural monuments.
22/04/2016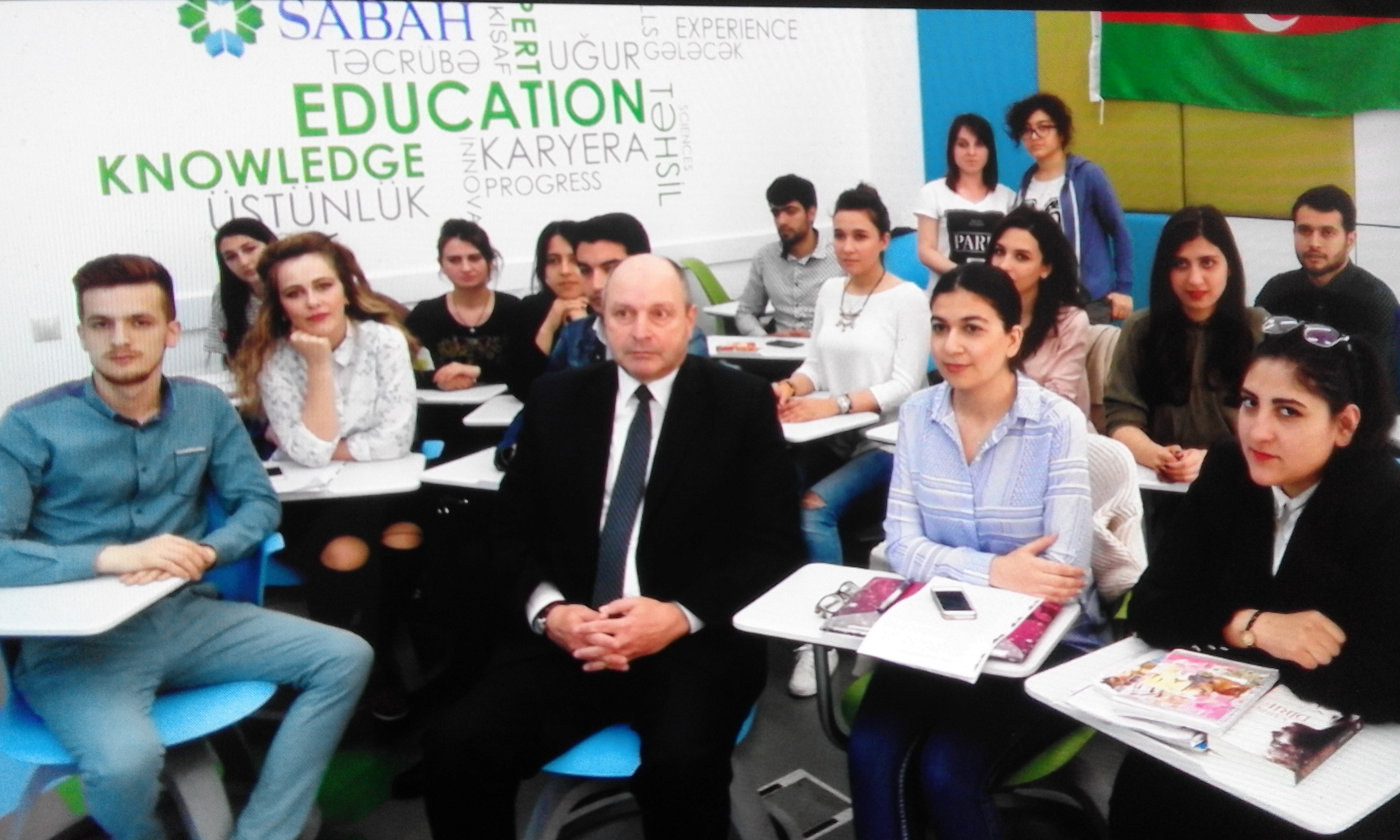 Departments of the state historical-architectural preserve Icherisheher and historic-ethnography preserve Gala held online video conference.
|
more
Science conference dedicate to 31 march, 1918 year
31/03/2016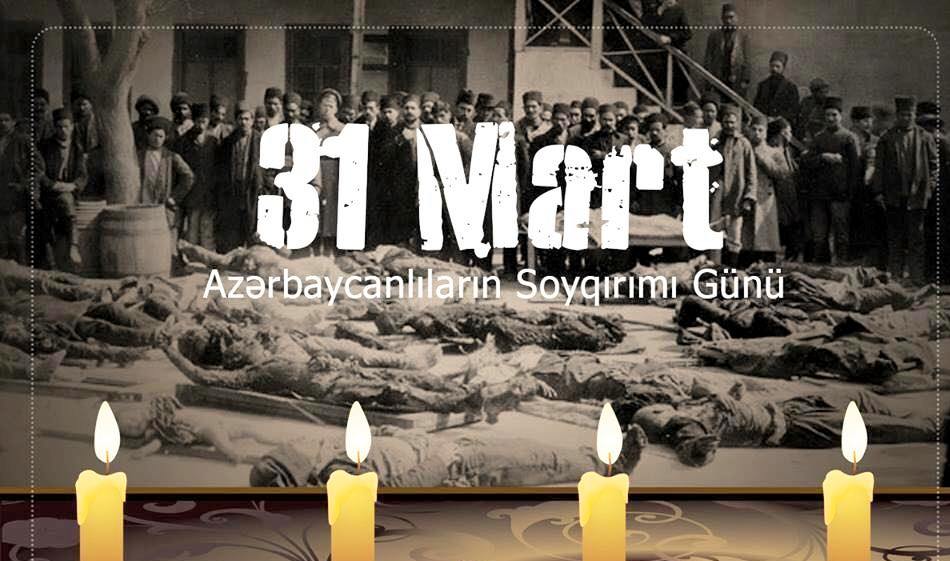 31 march of 2016 year at history faculty there was passed science conference dedicate to 31 marchy as the day of memory victim of genocide against azerbaijannians
|
more
Consultation meeting of the young researchers in department of History of the Turkish People
10/03/2016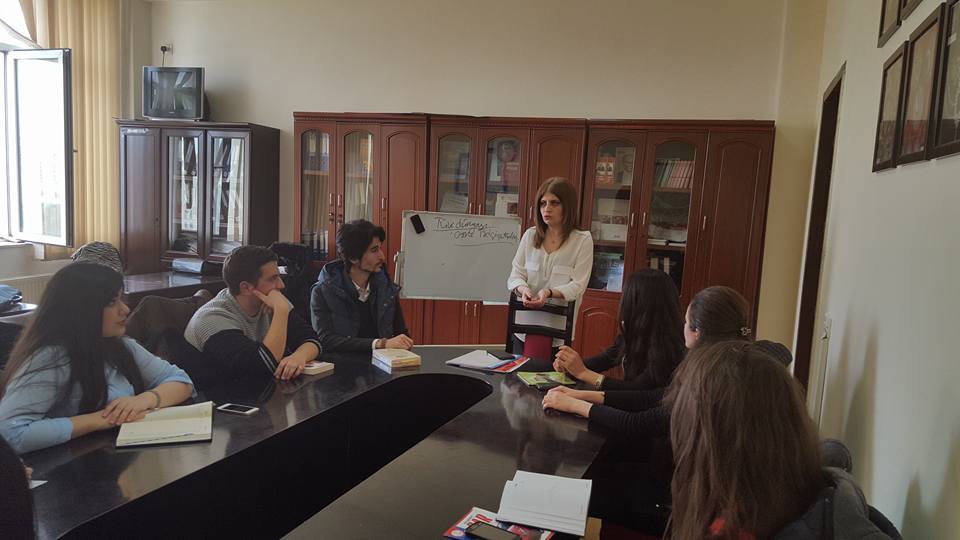 |
more
8 March Women`s Day
07/03/2016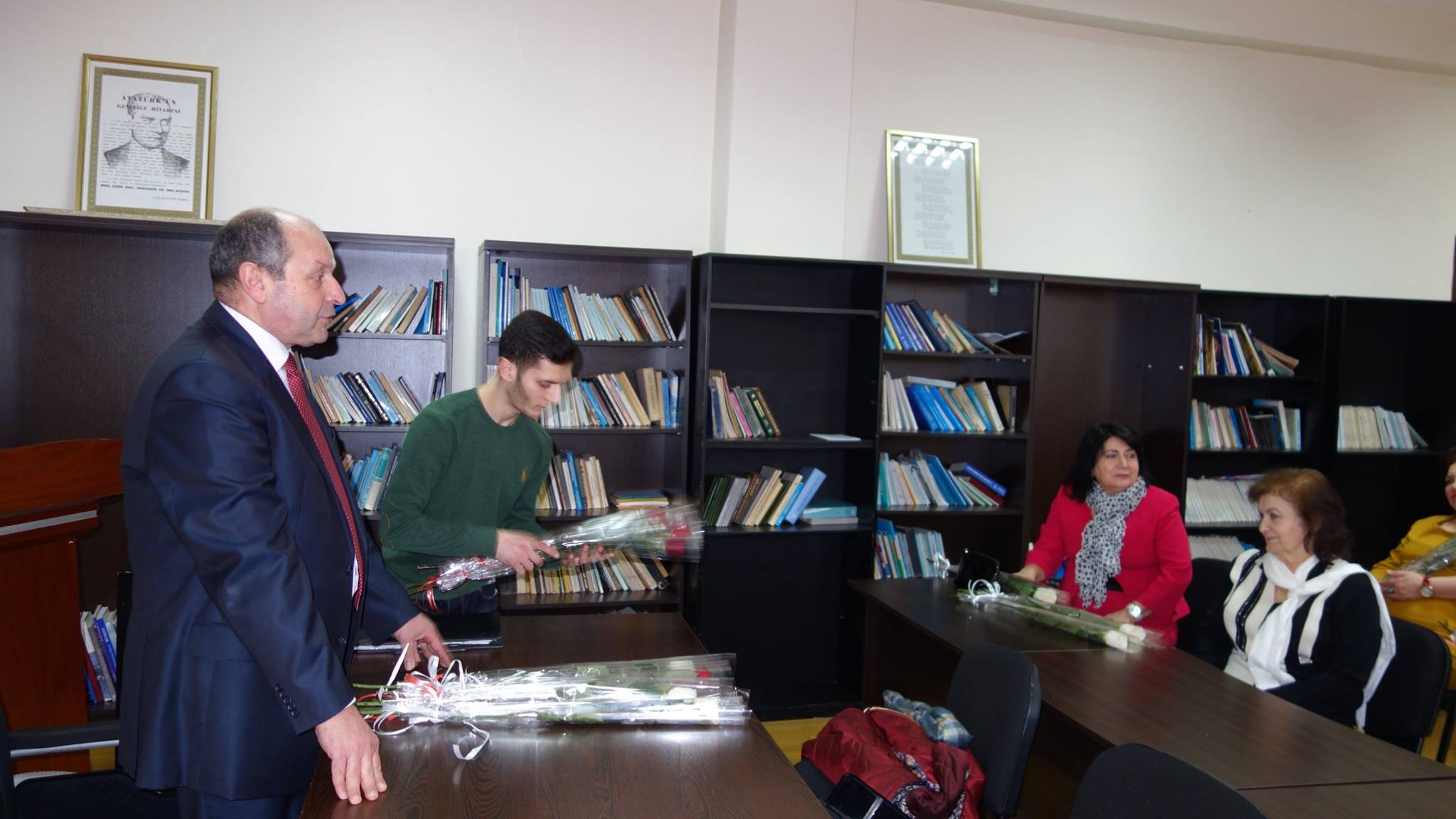 History faculty there was past meeting on events of 8 march Women`s Day,
|
more
Pilot Leonyd Kravets was witnessed of Khojali genocide "Helicopter landed, and we all came in shock what we seen there were children corps on the earth'
25/02/2016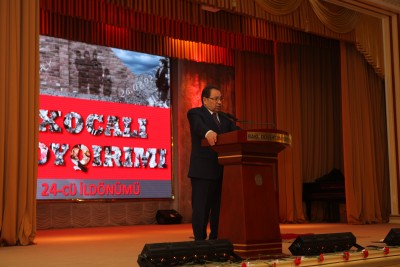 In Baku State University there was meeting dedicating to 24 anniversary Act of Khojali Genocide. Arrangement became after exhibition in appropriate topical paint picture made by students. Attendants were keeping silence on memory victims of this massacre, rector academic Abel Magherramov talked about Khojali genocide.
|
more
January 20 martyrs commemorated at BSU
19/01/2016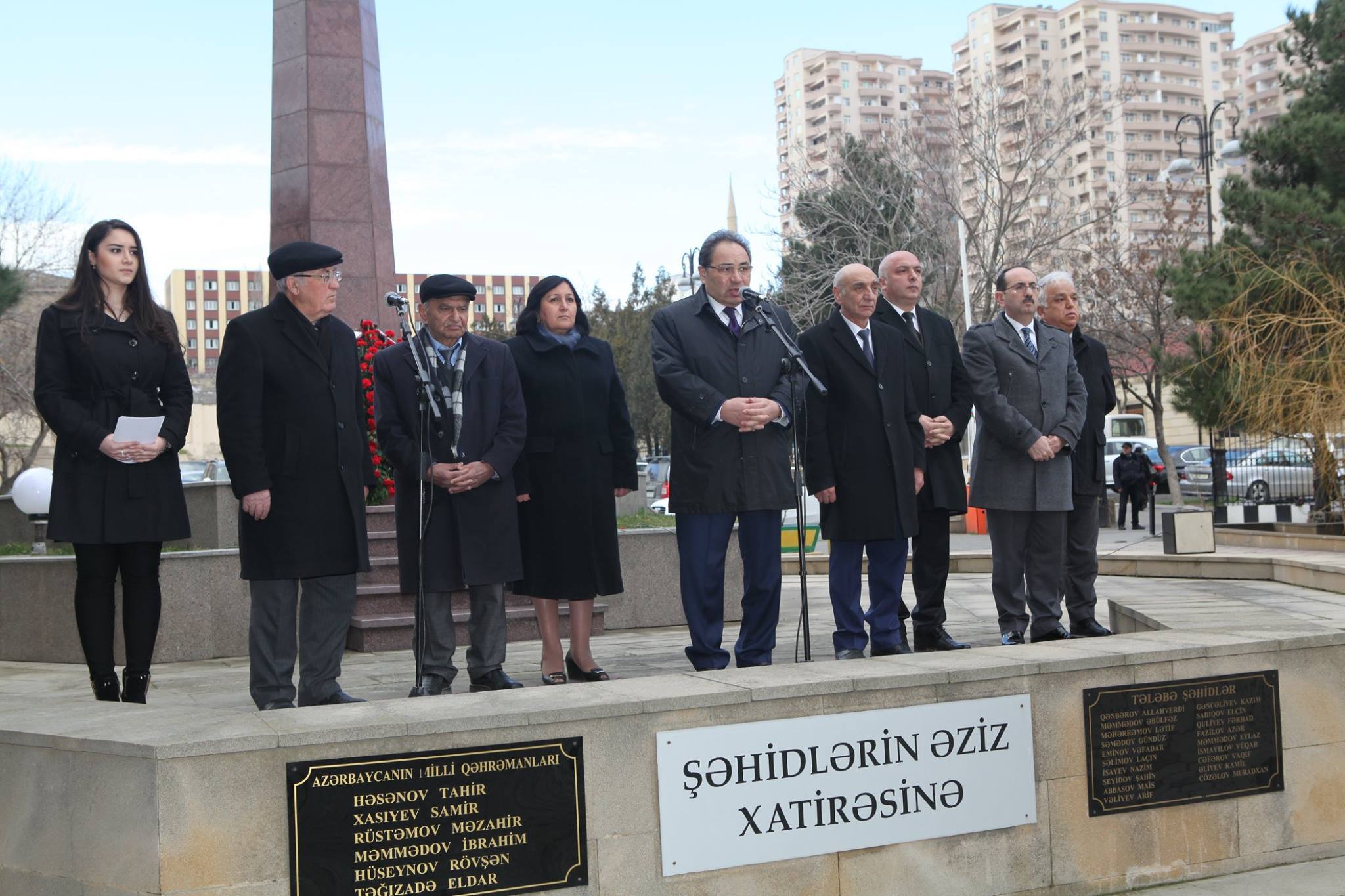 BSU organized an event to pray tribute to January 20 martyrs. The ceremony participants placed flowers at a memorial to January 20 victims in the yard of the university and observed a minute's silence.
|
more
1
| 2 |
3
|
4
|
5
|