THE DEPARTMENT OF THE HISTORY OF THE SLAVIC COUNTRIES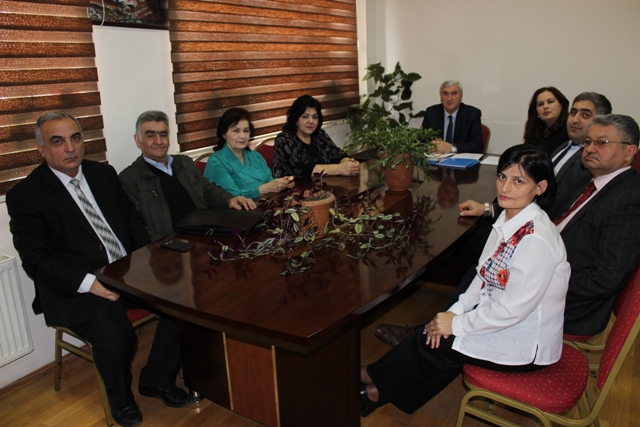 Department of History of Slavic Countries. Organized in 2001 on the basis of the Department of the History of the Peoples of Eastern Europe. In 1993-2014 the department was headed by prof. Tofig Veliyev. Today the chair is headed by Assoc. Abutalyb Jalilov. Prof. T.T. Veliyev is considered to be the main researcher of the socio-economic development of Azerbaijan in the nineteenth and early twentieth centuries in Azerbaijan's historical science. The author of 214 articles, 5 monographs, 9 textbooks, 5 textbooks, as well as textbooks for secondary schools. 15 Candidates of Sciences defended him.
This department was staffed by well-known professors Eldar Ismayilov, Rafael Suleymanov, Ogtay Akhmedov, Ali Aliyev, Idris Agayev, who have great merits in its development. At present, Professor Tahir Bakhshaliyev, associate professors Zoya Nuriyeva, Sevda Huseynov, Fazil Bakhshaliyev, Abutalib Jalilov, senior lecturers-dfi Maharat Osmanli, Firdovsi Ismayilov, teacher - df. Sitara Mustafayeva and a member of the training and support staff - d.f.i. Ainur Mammadov.
The department conducts training on 8 disciplines on a step of the bachelor degree and 7 disciplines at a master's degree. The staff of the department investigates various problems of the history of the Slavic countries, history and culture of Azerbaijan. In connection with these problems, such monographs as "The situation of Azerbaijani workers in the early 20th century and the strike struggle" were published, "History of Azerbaijan. XX century "," History of Slavic countries in the second half of the XIX - early XX century "(TT Veliev); "Power and people. Postwar Stalinism in Azerbaijan "," Anastas Mikoyan - he passed between the jets "(E.R.Ismaylov); "Development of secondary specialized education in Azerbaijan. 1920-1985 »(RJ Suleymanov); "History of the Slavic countries. 1917-2015 "(T.Sh.Bakhshalieva); "National bourgeoisie in the industry of Azerbaijan" (Z.Nurieva), "Private farmers of Azerbaijan after the conquest by Russia (1820-1890)" (FE Bakhshaliev), etc. The staff of the department take a direct part in writing textbooks "History Azerbaijan "and" Universal History "for secondary schools.
The academic discipline of a bachelor's degree
1 History of the Slavic countries -
2 History of the Slavic countries -
3 History of the Slavic countries in the ancient centuries and the Middle Ages
4.Slavic countries and new and modern history History of the peoples of Eastern Europe
5. Russian history Caucasian policy of Russia History of Civilization Russian-American relations Country studies
Master's degree discipline
Centralization of states in the Slavic countries XIV-XVI centuries
Foreign policy of Russia in the XVIII century
National Movement of the Slavic countries in the XIX - in the beginning. XX centuries
Economic development of the Eastern European countries in the XIX century. XX century
The development of agriculture and agrarian relations in the Slavic countries of the XIX beginning of the XX century
The scientific-pedagogical content of the teachers of the department
The teaching subjects
The history of the Slavic countries
The history of Russia
The scientific directions of the department
The preparation of the history textbooks for secondary and high schools